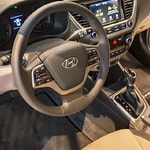 On the road, the Hyundai Accent performs well. This popular subcompact sedan cruises around obstacles with ease using its sports-tuned steering system, and when it slows down, the brakes are always responsive. In this blog post, you'll learn how these features could provide benefits if you buy a Hyundai Accent from Billingsley Hyundai of Lawton.
Because the Hyundai Accent has a sporty design, its steering system is built for agility. However, when compared to other sports-tuned automobiles, the Accent's design is very dramatic. If you want steering features like a traditional sports car and standard options that are typically included with an everyday vehicle, the Accent is a great choice because it's a nimble commuter vehicle.
The braking system is engineered to stop quickly. It's connected to a front-wheel drive train, so during daily commutes, the Accent's precise steering and responsive brakes can handle different driving situations.