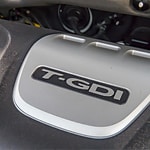 Do not sleep on the Hyundai Elantra. Despite its small size, this popular compact car features a variety of performance features that combines value with capability.
With a variety of powertrain options, you can personalize your Elantra to provide the capability and performance that you need to get you through life. The base sedan offers drivers a CVT that is married to a 2.0-liter four-cylinder engine featuring 147 horsepower. Or choose the GT hatchback, boasting 161 horsepower along with a six-speed automatic transmission. The Sport model is distinguished by its turbocharged 1.6-liter, delivering 201 horsepower for an exhilarating driving experience.
The team of Hyundai experts at Billingsley Hyundai of Lawton invite you to visit us in Lawton, OK. We are eager to demonstrate the Elantra's performance features to you so that you see for yourself why this vehicle continues to impress. Now is a great time to take the Hyundai Elantra for a test drive.